It's February 2017. Myself, Simon Selberg, Rickard Lovgren, and Jockuiem strolled into the Stockholm airport ready to check in for a flight to Moscow, Russia where we will catch a connection to the eastern Russian peninsula of Kamchatka – otherwise known as "the land of fire and ice." Our other good friend and athlete, Cody McNolty, would be meeting us 24 hours after we arrive. We were all pretty stoked; Kamchatka has 160 volcanos, 29 of which are active, making it the largest amount of active volcanoes in close proximity in the world, and it happens to be covered in tons of snow each season. We were gearing up for our first stop on a film project, Fresh Set of Tracks.
Fresh Set of Tracks that's all about going to remote locations to ride snowmobiles in search of zones that have never been ridden in the style of nowadays mountain snowmobiling. This project focuses on 3 riders: myself, Cody McNolty, and Simon Selberg (who is also the main filmer and chief editor of the project).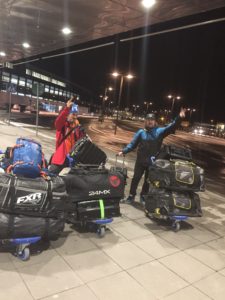 It turns out just getting to Kamchatka is a mission in itself. It all starts with applying for a Russian visa which takes about 3 weeks and costs Americans and Canadians around $400. You also have to ship your passport to the consulate (which alone is a little sketchy if you ask me), but to my surprise, we all got our visas. The first hurdle was cleared! The next step was to make it to the end of the world as we know it. No English is spoken, and considering the relationship between Russia and America over the past 100 years…well, you get the picture. I felt like I was going behind enemy lines. Anything could happen! Fortunately, knowing that other sledders have been running camps in Russia over the past 5 years gave me hope.  
We made it to Moscow, and we took a cab ride to a hotel where we spent the night waiting for our 9-hour flight to the other side of the country. Luckily for us, our gear was all checked from Stockholm straight to Kamchatka (imagine the amount of gear needed to produce a film like this). We had a ton of bags, and all were overweight. Checking them from Sweden was much less expensive than in Russia.
At this point, I'm already pretty sure the Russian people don't like us. In Moscow, nobody smiles…at all…like, not even a little. Then when you smile at them, they get even colder. It may have been the weirdest thing I have ever seen. I'm a pretty happy person and smiling most of the time, so I felt even more out of place.
We made our way back to the airport, checked into our Kamchatka flight, and then a lady was holding a sign for Rickard near our gate…uh-ohhhhh.  He approached her, and the only thing she said was "follow me…"  We had no idea what was up, but luckily he was only gone for about 20 minutes. We weren't so much worrying, but we also weren't really confident that they would let his camera gear onto the plane. When he came back he said they just had regulations on lithium batteries and how many you can have in one bag, which was an easy fix. Filming for Fresh Set of Tracks would have been a lot more difficult without all of that. Wheewwww, all was good, and we boarded our flight to the east coast.
Descending into Petropavlovsk-Kamchatsky was a crazy bumpy ride. The plane dropped about 300 feet at one point, it was snowing, and we could only barely make out some nearby mountains. They were not the epic volcano sights we were looking for, but we knew they were lurking nearby. This was going to be quite an adventure.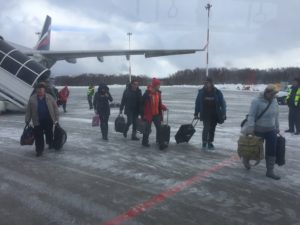 We left the plane, grabbed our bags, and we were set. We all made our way through the iron gate into the square of the local airport and found our driver with a sign for Simon. Our driver was a young man around 22 with a nice girl around the same age. The Snow Valley Lodge provided breakfast, lunch, and dinner, but we would need some extra snacks. We hit the grocery store for some snacks, the fish market for (mostly for some caviar), and the liquor store for proper supplies for our stay. Once stocked up, we made our way out of town.
One thing that caught my eye was their architecture. I find it so interesting that other countries don't take pride in the finished look of their buildings and homes. It's like anything that is constructed gets a rough build…and then they just quit. It's such a different way to live compared to what I am used to in the USA.
After about a 45-minute car ride through some towns and Russian highways, we ended up in a parking lot on some back roads. There was snow everywhere. It looked like they get had been getting tons all season. The banks were 4-6' tall, and they seemed to have interesting plows (again, so funky that they just get by and are ok with that).  In the parking lot, there were eight sleds all buried by snow, and a Toyota Land Cruiser. Not speaking any Russian, we figured out it was time to change vehicles.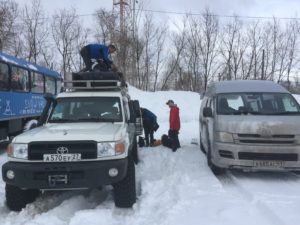 We loaded the cruiser with our bags on the roof, strapped them down, and met our new driver. Now, this guy was awesome! He didn't speak a lick of English, but he was so fired up. He had some crazy blue eyes, a scruffy look (kind of like a mechanic), and his cruiser was on 44" tires that looked a bit deflated. We climbed in, and off we went. It wasn't far until we took a left onto an unplowed road, but this was a sled trail! This is where it got fun. Our driver was charging, and we were in the back bouncing all over the place. He was bumping his stereo with trap and dubstep and would laugh out loud, point at stuff, and spit out some crazy Russian – and then laugh again! All we could do was laugh and say OK! Man, I loved it.  
After about an hour, we pulled into an oasis of a lodge compound called Snow Valley. This is where Brain Farm made their base camp for the 4th phase about 3 or 4 years ago. I think we were the second film group to ever be there. It was a very nice lodge, complete with hot springs, a big hot pool, main lodge for food, game room, separate cabins, and a hotel-style building with bunk rooms. It was perfect. They even have a rope tow and ski hill out back, with a kicker landing. Helicopters land in the meadow below for heli clients, and there are a TON of sleds. Mountain Park, which is Jussi Penninen and Vladimir Smola's company for sled rental and guiding, is based there and that's who we were working with for the 10 days we were there. Our stay was honestly the best. The food was epic, and the service was awesome. They employ a hand full of college-aged kids who mostly all speak some English and are excited to see new people. They really made you feel like a guest.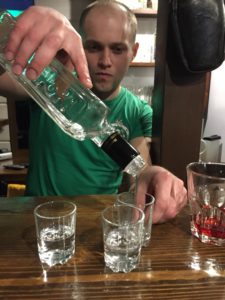 Once we got our rooms dialed in, we had started with a down day since it had been snowing. Unfortunately, the temps were a little warm even though it was still snowing – just that heavy maritime snow, but I'm used to that.  We spent our day getting video shots of the compound. We had tea and just decompressed from our long travel experience.
We were all pretty excited to get out on sleds the next day. Our first ride was only about 1 kilometer from the lodge, and we rode one hillside all day in some heavy wet snow. It was still a good day to get used to riding a 2016 Skidoo 800 T-3 again and to get the production team in the groove, especially since they were riding Skandiks. Those were made to be work sleds: super wide, heavy, and underpowered for real mountain riding. They have a 550 fan cooled motor. It wasn't exactly the mountain ride that we are all used to, but they were perfect for hauling all the gear.  We found some small features to jib and pull some fun tree lines.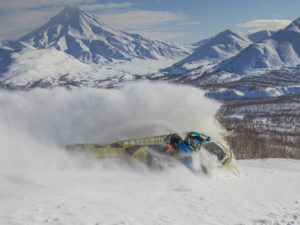 Cody was a blast of great energy, and Simon, Rickard, and Jocky were setting up some epic shots. The trees were all birch-looking, and make for some very cool-looking areas. I dug an avalanche snow pit to check the snowpack and see what type of layers we were going to be dealing with. Luckily for us, it was a right-side-up snowpack. There were no major instabilities in the pit I dug, and I was glad to be looking at pretty good conditions!
Our next day of riding turned out to have some blue mixed with clouds, and we took full advantage of that! We found a mix of alpine and below-alpine features with some epic turns. I was fired up for the potential of the next week of riding here. The terrain was everything you want: from high alpine plateaus to steep tree riding, huge descents, features, and the gigantic volcanoes. We seemed to hit it right too, as the warm temps went cold, it zapped that heavy snow on top and gave us blower pow on top with great traction on a dense snowpack underneath. You could get everywhere. It was stable, still pow, and just perfect for what we set out to do: capture the adventure of riding in Kamchatka!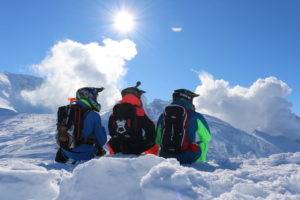 After the first few days, we caught an unreal blue day that took us to a volcano pretty far south. It ended up being one of the coldest rides I have ever been on. We rode past this mountain outpost all the way to this volcano that has a steam turbine power plant near it. It was pretty crazy! Temps were super cold, and we were riding across a huge plateau, so the wind chill made for what felt like 20 degrees below zero while out on the big open. It was bitter cold, but worth every second.  
We filmed Simon, Cody, and myself climbing to this upper ridge where the views were just unreal. We could see a full 360 of the land and even some of the sea. There were snow-capped mountains everywhere littered with huge volcanos that stood above all other terrain. Honestly surreal.
After some time on the ridge, we rode into the massive volcano crater that we were next to. Yep, inside the crater is where we went, complete with steam vents, running water, and some insane-looking frozen ice walls. We spent about an hour and a half in there doing some interviews, and then we ate lunch. Since the ride there was so long, we hadn't really gotten to rip the terrain especially because our guides kept saying, "No, no riding around, just go." They were worried about the amount of fuel we would burn, but we just kept seeing some super fun terrain.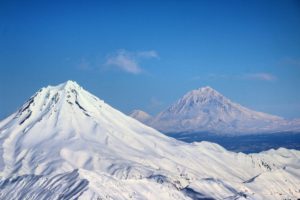 It was hard for Cody and me to restrain from ripping around on everything! We did have some fun on the way back.  We even stopped for a group pic on these three totem poles that were buried and had only about 3 feet of the poles sticking out of the snow, so we all stood on them with the sleds parked around them. Only twice have I been that cold on my snowmobile – and that is saying something!
Over the next few days of riding, we found amazing terrain, features, and power turns! The opportunity to go on this adventure was amazing. Every day was something new, and we all would stop and just take it in. The scenery, the riding, and our group were all things that you don't get every day  We all recognized that this was something special. Every time I see the film teaser or some pictures I get that soul-moving feeling inside of how amazing it was. I am truly lucky to get to be a part of something of this magnitude, and to start the project off in the farthest edges of the world was truly amazing.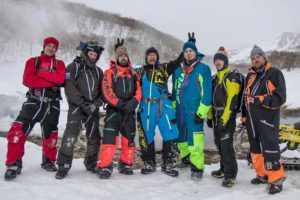 So what's the next part of Fresh Set of Tracks? Well, in March 2018 we will be in Canada with the same group of riders and production crew. We are working on capturing something amazing and deep in British Columbia, and I'm sure it will provide more epic moments. Canada has some of the most amazing snowmobile zones in the world, and we get to ride our own sleds there! I'm super fired up for this next step of the project!
Thanks for tuning in and checking out my new blog! Feel free to follow me on Instagram and like my Facebook page so you're always up to date. Until next time – peace out!